Pinball League: Hardhat Zone for Windows 8.1
Nov 13 2014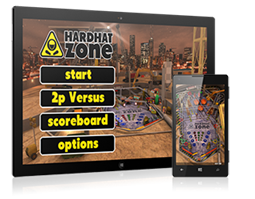 If you already own Hardhat Zone on the Phone you can get it today on your Desktop or Tablet for free!
Hardhat Zone is now a Universal App, available on both Windows Phone and Windows 8.1.
"Hardhat Zone" is our new, immersive, "construction site" themed pinball table. A world full of activity, machinery and workers, cranes and bulldozers. Unlock and complete all the stackable modes, collect the bonuses and rack up your score. 
But bragging about your high-score to your friends on Facebook just won't cut it anymore! Challenge your friends to a simultaneous 2 player Versus match: bump together your NFC equipped devices and connect instantly for a competitive 2 player game! Gain bonuses for yourself and send obstacles to your opponent!
· Photorealistic graphics
· Arcade mayhem
· Refined ball physics
· Vibration feedback
· Tilt mechanics
· Portrait and landscape modes
· 2 player NFC showdown…
…welcome to the Hardhat Zone!